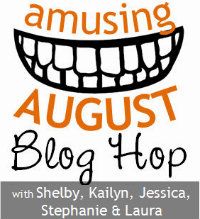 Hosted & Co-Hosted by:
Shelby
Steph and Laura
Kailyn
Jessica
What are your guilty pleasures?
You know, those things you love even though they're embarrassing or weird!
1. Cherry Coke
There is nothing better than a cold Cherry Coke!
2. Red Lobster
My ultimate favorite restaurant! I LOVE when they have endless shrimp nights. My sister and I spend hours there on those nights. YUM!
Whenever I have had a bad day, I pick up some food from Red Lobster and eat it at home with a cherry coke while watching a girly movie.
3. Ranch
I eat ranch with EVERYTHING- Fruit, Baked Potatoes, Pizza, Chicken, Chips, Mashed Potatoes, and of course all of the normal stuff like fries and salads.
4. Online Shopping
I probably spend too much time online shopping.
What are some of your guilty pleasures?
I would love to see you join the hop!
:)