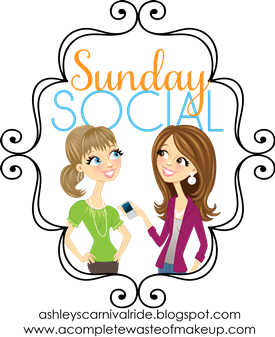 Linking up with
Neely
and
Ashley
again for The Sunday Social! This week the questions are all about OLD SCHOOL!
1. What were you like in Middle School/HS? (Pictures)
Both of these pictures are from my Senior year in High School. I couldn't find any pictures from Middle School. I had BLONDE hair and definitely spent way too much time tanning!
Middle School- I was all about the sports! I ran track and cross-country, played softball, basketball,
and volleyball.
High School- I was a member of FBLA, Marketing, and Student Council. I was very preppy!
2. What were your favorite past times?
My best friends and I always went to the mall and hung out on Friday and Saturday nights before we could drive. Once we started driving, we would hang out downtown and would just drive around listening to our music really loud.
3. What songs were you obsessed with?
Anything from Kenny Chesney, Keith Urban, Britney Spears, and Christina Aguilera.
4. What fashion statement do you look back on and cringe?
Well, I think the biggest thing in high school were those collared shirts from American Eagle. I think I had one in every color and all of the ones in stripes.
5. Who was your celeb crush?
6. What were your favorite TV shows/movies?
These are the only ones I can think of on the top of my head, but I'm sure there are a MILLION more...
Shows- 7th Heaven, Laguna Beach, One Tree Hill
Movies- Mean Girls, She's The Man, Clueless
What were you like in Middle/High School?
I would love to see your pictures from Middle School or High School. So, come join the link up!!