Happy Friday!! Have I told y'all how much I love Fridays?!?! I didn't think so..Let me tell you again just in case you didn't know...I LOVE FRIDAYS!! :)
This week's Follow Friday goes to Emily from
Everything Emily.
I absolutely love her blog! She is just cute-as-a-button and so is her blog! You should definitely go check out her blog! :)
BIG NEWS for Southern Glamourista....
I have decided to join Blog Lovin'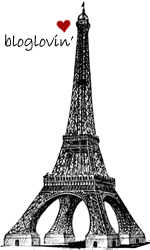 Click on the Eiffel Tower if you would like to follow me on Blog Lovin'
Hope y'all have a FANTASTIC weekend!